RS Drubask
RE Druzwa x Must Be Love (Khazzan)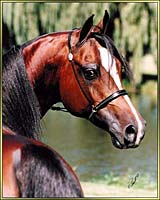 • AHR*415345
• 2002 Region X Top Five Ladies Western Sidesaddle
• 2000 Region X Top Five Western Pleasure Open
• Multiple Class A Champion in Western Pleasure, Hunter Pleasure and Halter
• Sire of Class A and Regional Winners in Halter and Performance
Consistently siring foals with type, excellent conformation, athleticism, size, wonderful dispositions and "want to work for you" attitudes. Click here for photos and pedigree.
IAHA Sweepstakes Nominated Sire
Vet-Gen Tested SCID Clear
No Longer Available For Public Stud
Click Here to see his Foals

DESERT VISIONS LTD.
"
Where Visions Become Reality
"
Danielle and Randy Shaw
N2391 Greenville Drive
Hortonville, WI 54944
Phone: (920) 779-0655
E-mail:
Designed and hosted by Arabian Insite, copyright © 2003 - 2017
No images or content on this site may be used or reproduced without written consent.